Profile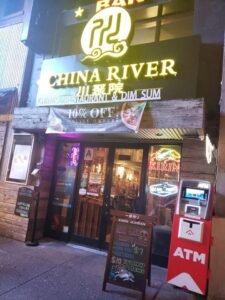 Nestled next to "The Phantom of the Opera" at the Majestic is the diminutive China River. From the outside, this spot looks like any low-key Chinese eatery sprinkled all over the city of 8 million.
But once you step inside and study the menu, you will discover that China River boasts authentic Sichuan food with all the bells and hot peppers.
There are tons of dishes to choose from, depending on mood and hunger. You can also choose the level of hotness you can withstand. Whether you like to have your lips numbed by fiery peppercorn or you prefer to have your taste buds scorched by chili oil – it's all customized to your heatness.
For the first round, I had the Dan Dan Noodles also known as spicy Szechuan noodles. True to its name, it was spicy & sour and a bit too oily for my liking. Every time I slurped a few strands of buckwheat noodles drenched in ground pork and chili, I would redecorate my shirt like tie-dye.
Contrary to what you may think, the dish is not named after infamous Chef Danny Bowien of Mission Chinese.  Instead "Dan Dan" is the carrying pole that street vendors in the Sichuan  province use. They place the ingredients, bowls, chopsticks & cookwares in two baskets tied to each end of the pole. They cook and serve the noodles in the street whenever stopped by customers. What started in small towns throughout Sichuan is now a popular Szechuan dish enjoyed by Szechuan fanatics everywhere.
After dousing my tongue in ice cold water and wiping off my chin of Sichuan pepper and chili oil, I was ready for Round 2
Since I'm adventuresome, I went with the Diving Fish Pot. It's an entire fish soaked in Sichuan broth with peppercorn, leek and kelp. The fish was so tender, the sliced pieces melted in my mouth like molasses. I paired the dish with brown rice and enjoyed digging into every part of the fish until every bit of morsel was consumed.
Stacy ordered Crispy Pan Fried Noodles with Beef. Though this is a very common dish, it was surprisingly good. The crunchy fried noodles had a crispy texture and thick gravy over the finely sliced pieces of beef was heavenly indeed.
The place has three levels including a fully equipped bar with tall bar stools. All the drinks in the menu looked appetizing, especially the popular Tsing Tao Mojito – lime, rum and a bottle of beer flipped upside down. I call this the Tsing TaoRita just like the ever-popular CoronaRita.
Reviews