Profile
Andrew Harper
I love Hana Market! It's a small store, but it's packed with tons of yummy snacks and ingredients I can't find anywhere else. My first visit was to find だしand Blendy coffee which I didn't have any luck finding around DC. There are also a million flavors of Kit Kats 😋 Everyone who works here is so sweet too. ありがとうございます!
Emilie K
I am half Japanese so I am EXTREMELY thankful for this market! The prices are very reasonable. So many Japanese goods here that I typically only see in Japan. Makes cooking all my Japanese dishes so much easier. The store is very small but has so many options. It's my little Nippon happiness in DC 😍
"Wide 
selection
 for a small 
grocer
 and has a lot of staples for Japanese 
cooking
."
"Good 
variety
 of groceries and friendly 
cashier
 good cistomer 
service
"The 
staff
 are super helpful and the 
quality
 of the 
products
 in stock are great!"
Paul Le
Literally the best place to go for Japanese groceries. From soup bases to snacks to tableware to shower products to non-alcoholic beverages to frozen imported meats/fish.
Prices can sometimes (emphasis on sometimes) seem inflated, but I assure you, it's almost always worth it. For the things that do seem on the expensive side, take into account how much they cost in actual stores in Japan and add the fact that everything is imported here.
I've been going to this store since they opened and the man who owns/runs it is the sweetest and hardest working dude. Which translates well to his staff, as they're also all awesome.
For more recent information you're probably here for: yes, they take into account safety and follow regulations and procedures related to COVID-19. It is a very small store, so if you are more wary than I am (and lemme tell you, I am VERY wary), maybe go here during off hours to avoid being close to anyone.
Photo shows just some of the things they carry (they rotate a good number of snacks and drinks so sometimes you won't find some things again) and how much I end up buying whenever I go in thinking I just want a couple drinks or a couple snacks.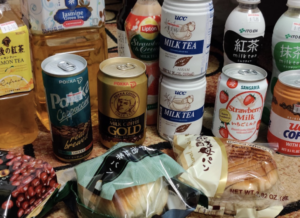 Reviews